High-class artistry, live music and comedy ~ performed by a cast of international variety and street performers ~ merge into a turbulent show that breaks all genre boundaries.
One night in the small town of Hoodlivnitz, somewhere far, far in the East of here. This is the town where they dance tango and polka, where they fight and make love, where the night lasts as long as there is vodka.

Great show, great artists and a super collaboration. There was more laughter and amazement than there has been in a long time.
Kabaret Kalashnikov offered a great show of artistry, ravishing choreography, slapstick - and the whole thing pretty crazy. The actors were a blast of the best entertainment.
Wonderfully wild and full of humour, Kabaret Kalashnikov ensnares its audience.
The performance of the artistic troupe "Kabaret Kalashnikov" is an extreme mixture of impressive artistry, freak show and dry humour.
Weird, shrill, like a really good party: the best-attended event in Celle in 2021 ended with a standing ovation.
Kabaret Kalashnikov - a highlight in Oldenburg's 2022 event programme! Great show with wonderful artistic performances.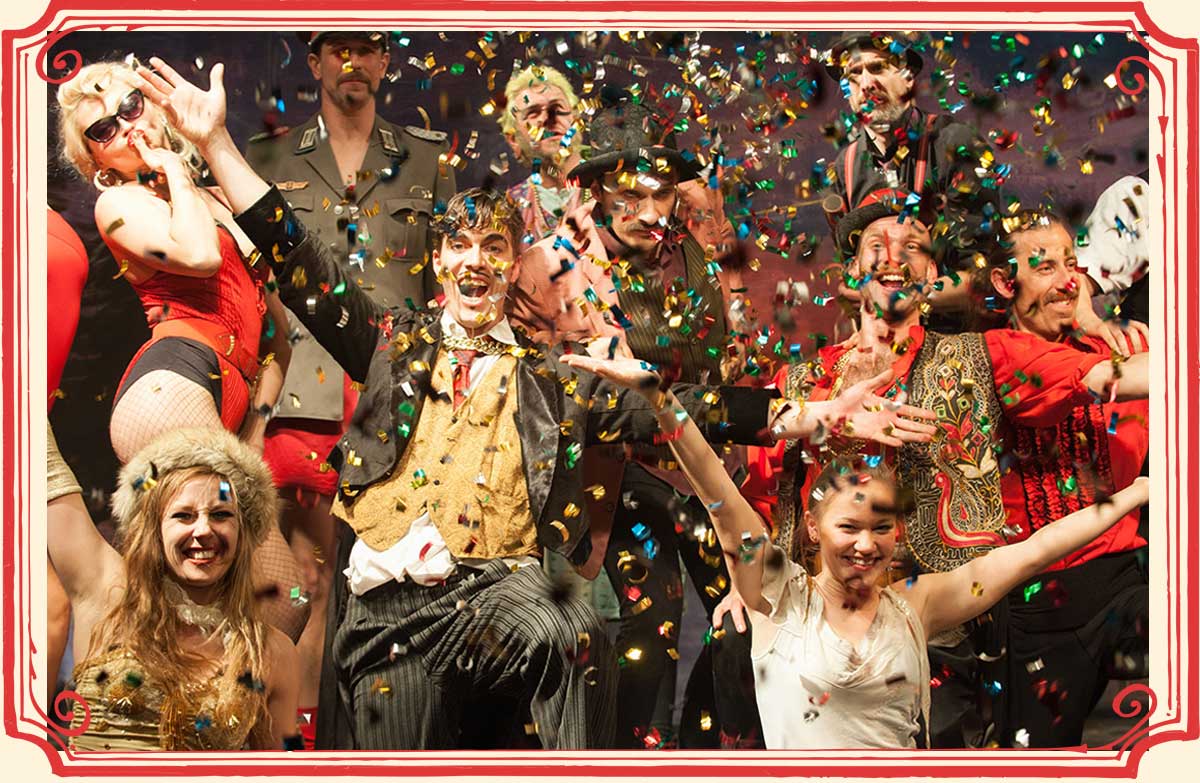 ComedyArts Festival / Moers 16. September 2023
+
-
On the 16th September 2023 we are very happy to present a snappy version of our actual show "Taverna Stories" as part of the amazing "ComedyArts Festival" in Moers.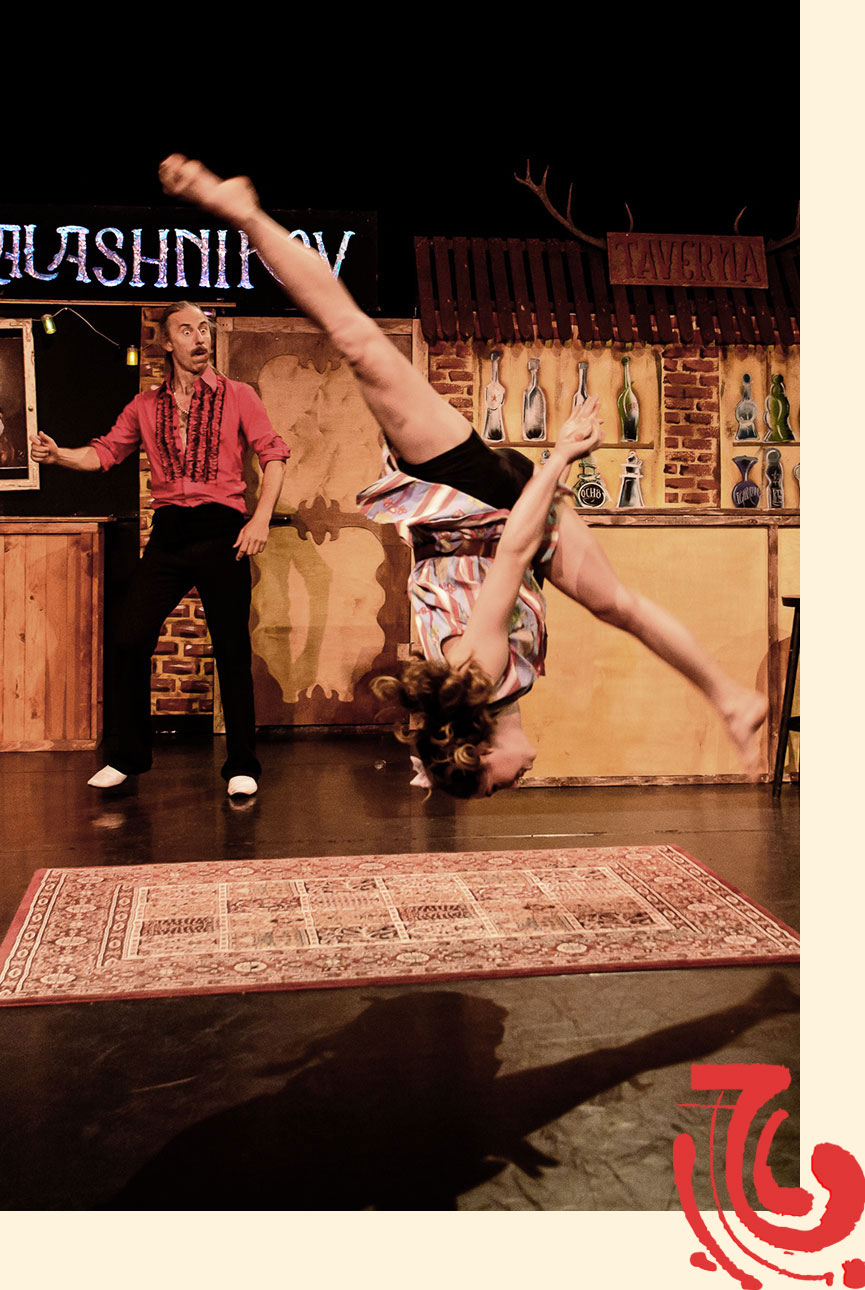 The setting is – where else – the Taverna of Hoodlivnitz, where we meet all kinds of characters in the course of the evening: Nobody wants to know how the innkeeper distils his vodka, and no one would dare to ask him! He's assisted by his daughter, his pride and joy. One day she will take over the bar – at least that is his plan… The eccentric mayor is of course a regular at the taverna, because where else could he present himself? Especially today, when there is supposed to be a spectacular surprise! It could be a really round evening, if it wasn't for the appearance of the commissioner.
"Taverna Stories" is told with exhilarating artistry and absurd comedy: An energetic show driven by infectious Balkan beats, vodka and the ensemble's passion for variety! A fantastic mixture, a wild spectacle that will not leave any eye or throat dry!
This full-length show is designed for both indoor and open-air events and combines the best of variety and street theatre with little technical requirements. A shorter version can also be performed without an intermission. The ensemble consists of six performers who master a wide range of disciplines: Contortion, hula hoop, handstand, partner juggling, diabolo and Chinese pole. All these ingredients are then garnished with live music and freak show elements.
Show Trailer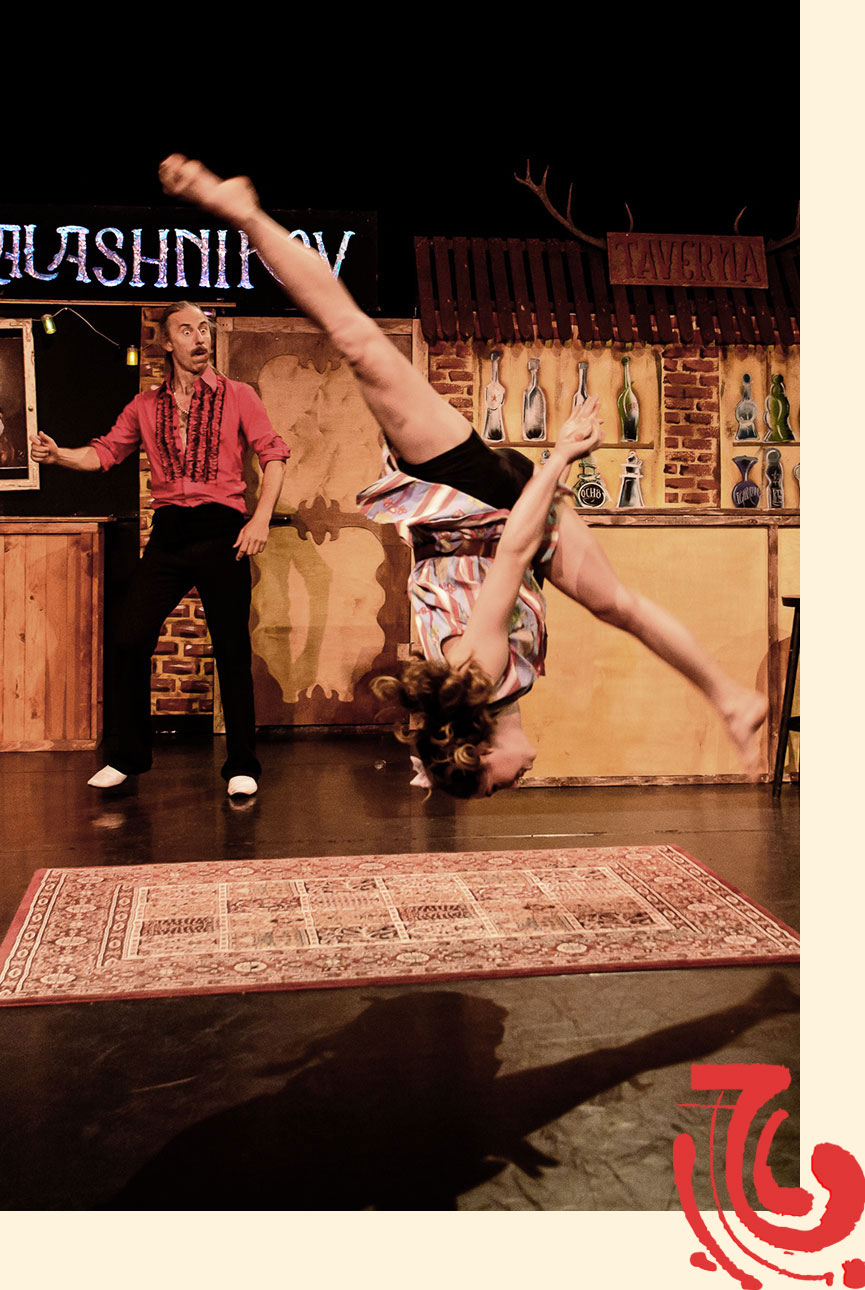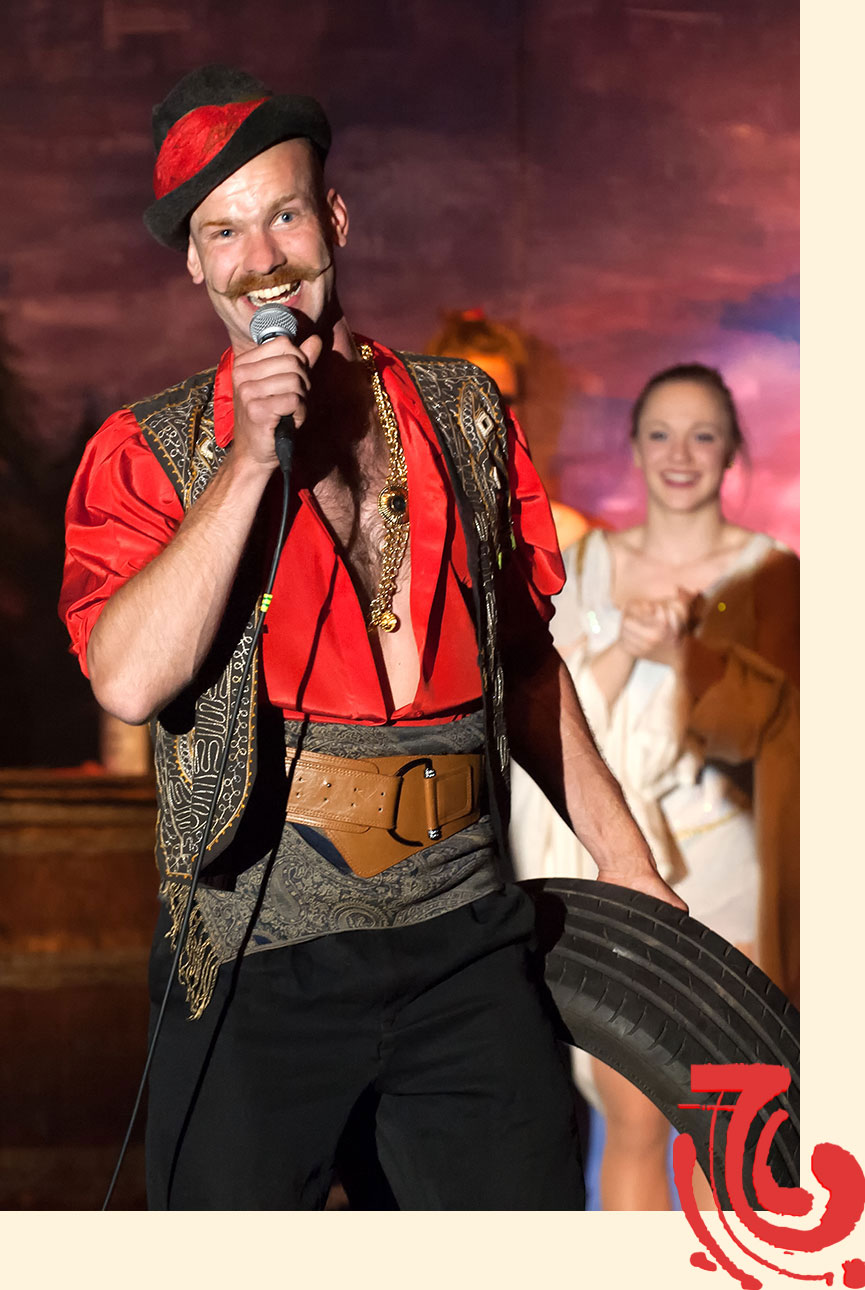 The setting of this story is an abandoned place on the outskirts of Hoodlivnitz. Here Mother lives in a caravan with her three daughters, plagued by great worries: Her husband long gone, the youngest daughter madly in love but the eldest not yet married, the neighbours looking down on her, and then there's the threat of eviction! How can she possibly find a way out of this mess?
This full-length show with intermission is designed for the larger stages and halls. The ensemble consists of nine performers who tell the story with numerous artistic disciplines such as cyr wheel, aerial artistry, contortion, hula hoop, handstand and partner acrobatics, partner/ juggling with balls and clubs and diabolo. Of course, this show will also be performed in Kabaret Kalashnikov's typical style: Quick tempo unique comedy and finest artistry! Ideally, its accompanied live by their own three-piece band (trumpet, guitar/bass, drums). Hanging points for aerial acts are required.
"Magnificently staged and illustrated with a story about love, heartbreak, money and … of course a good old punch up…"
Sheila Wolf
Show Trailer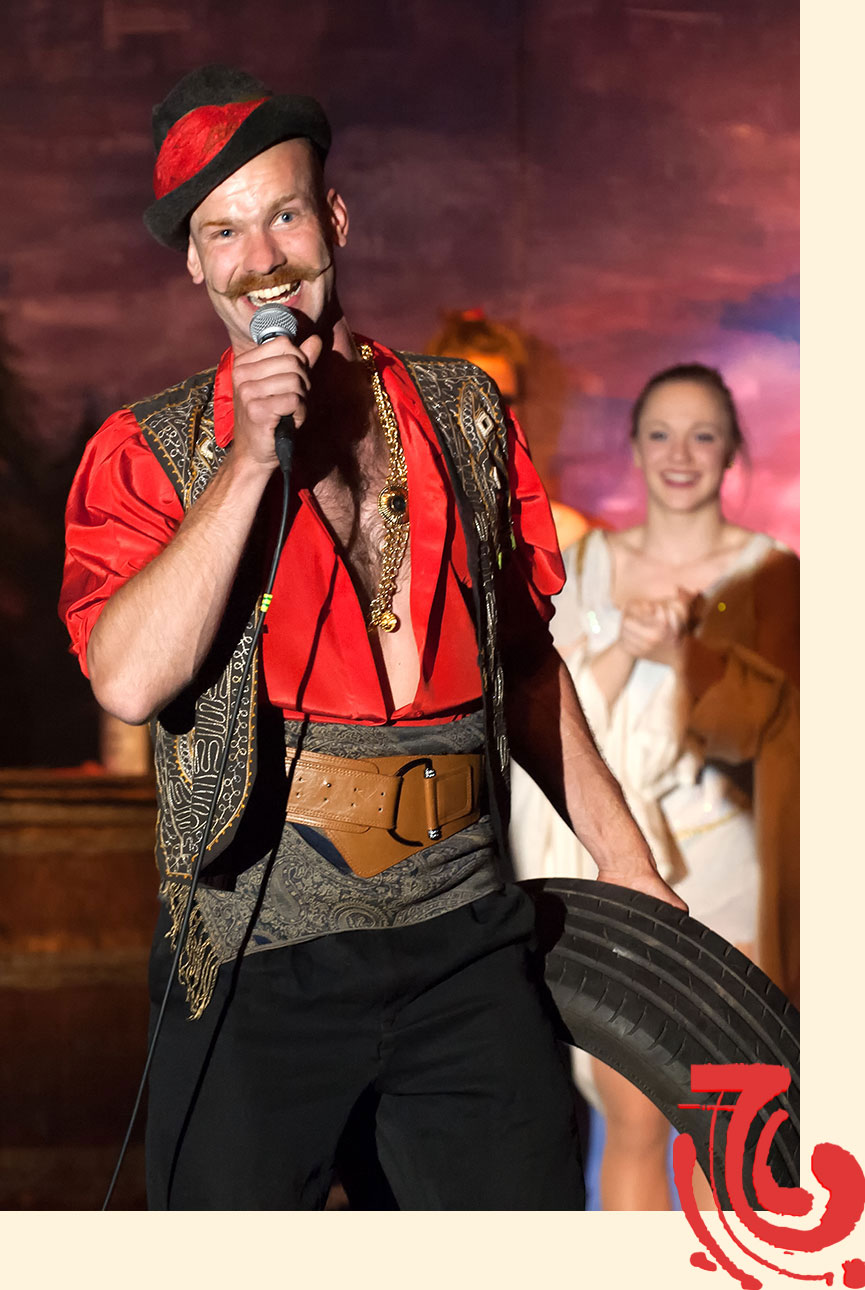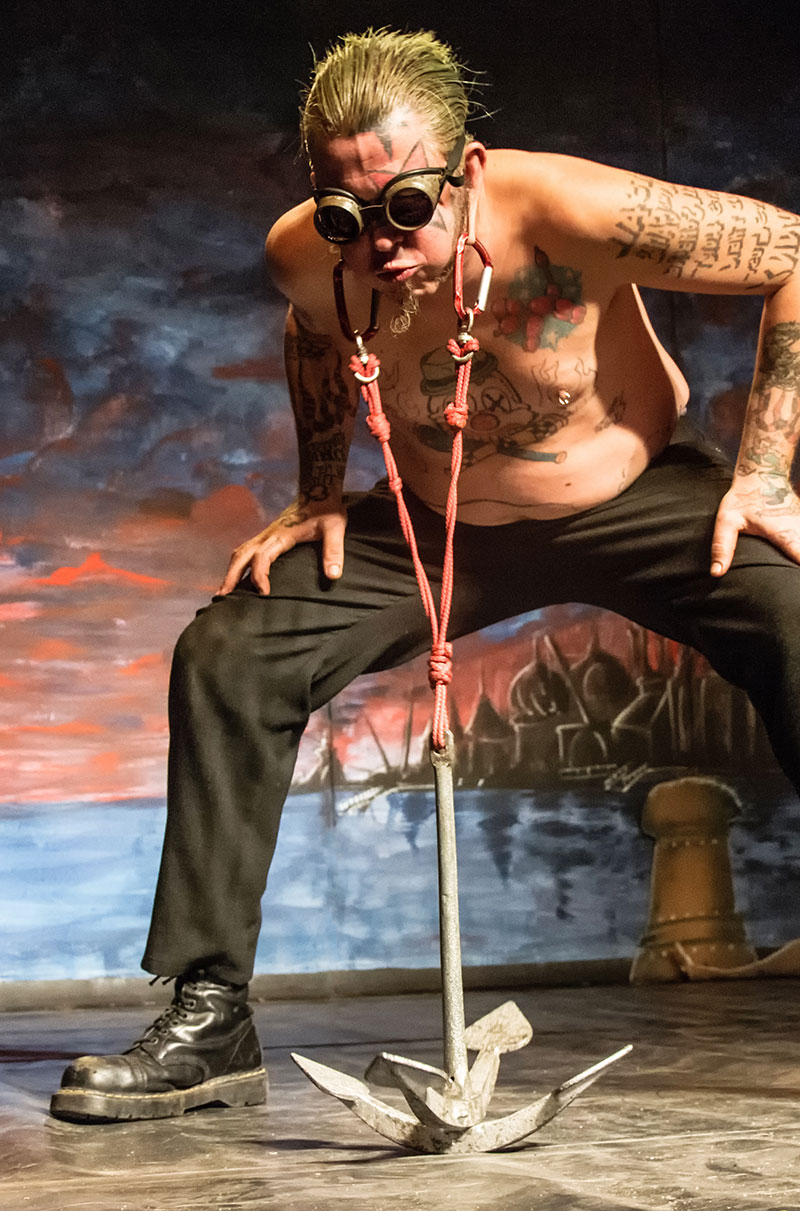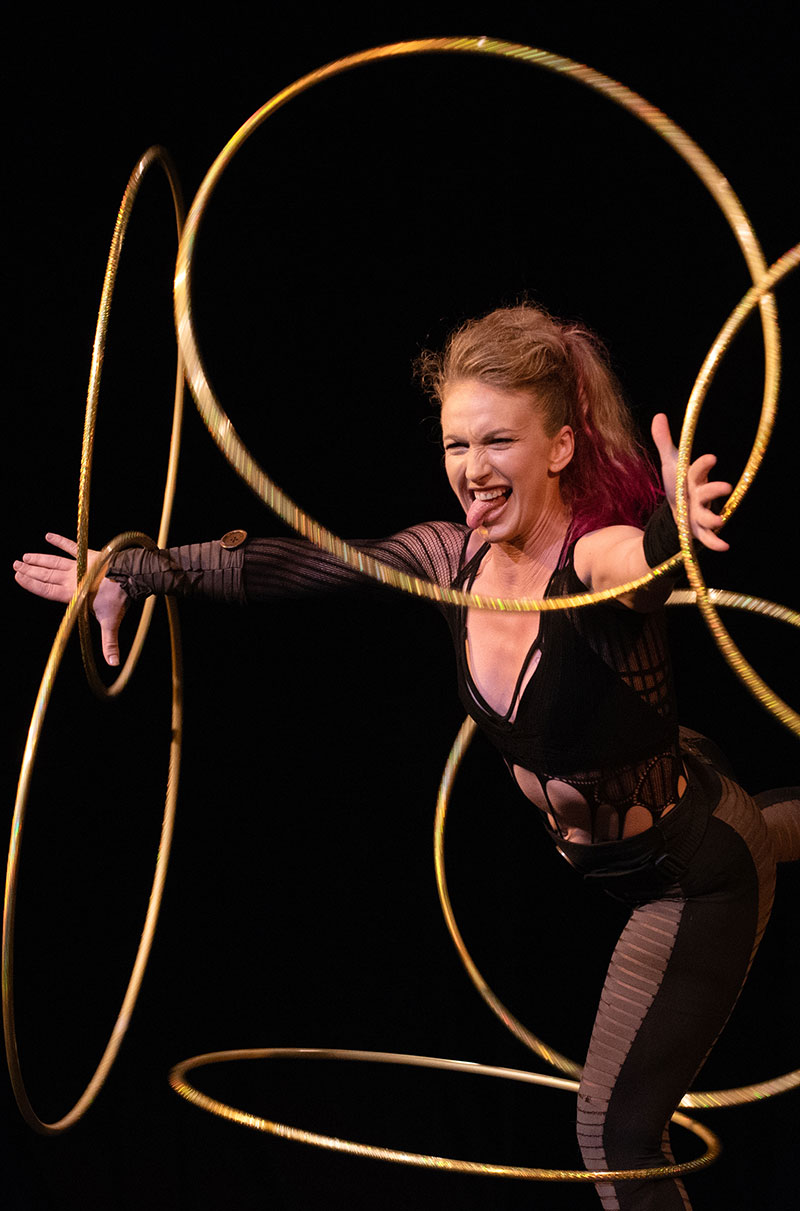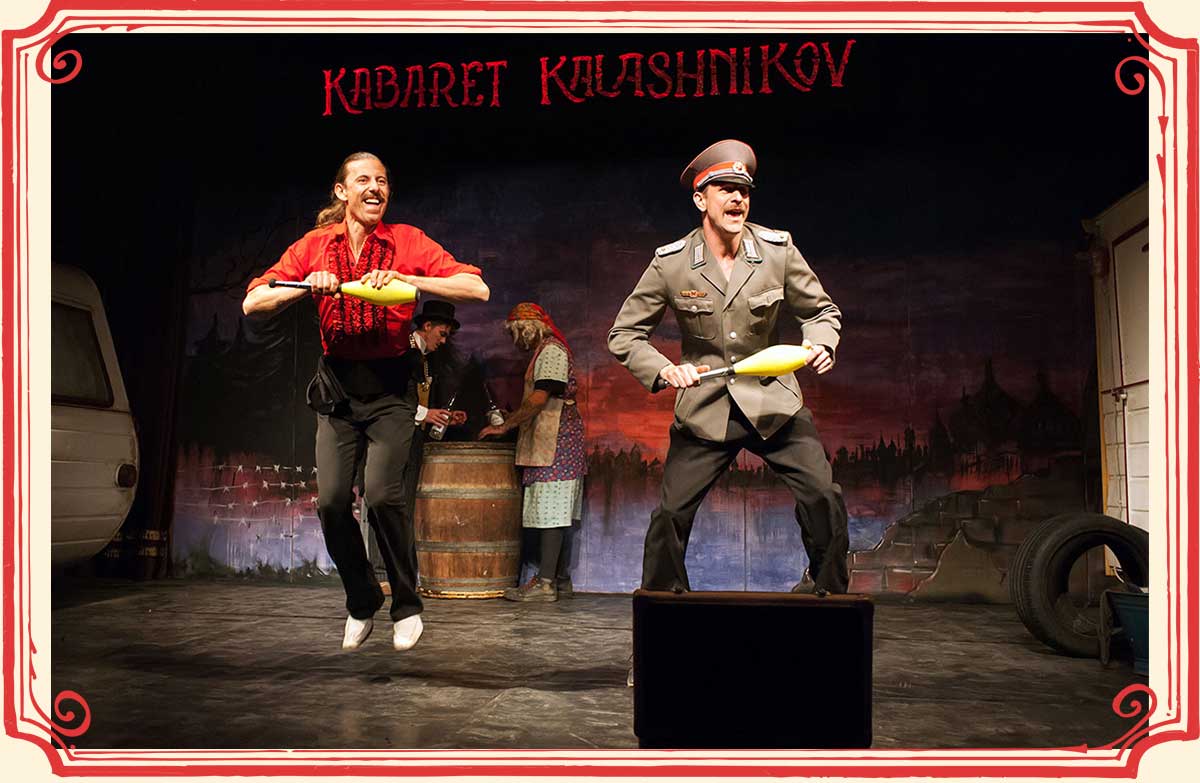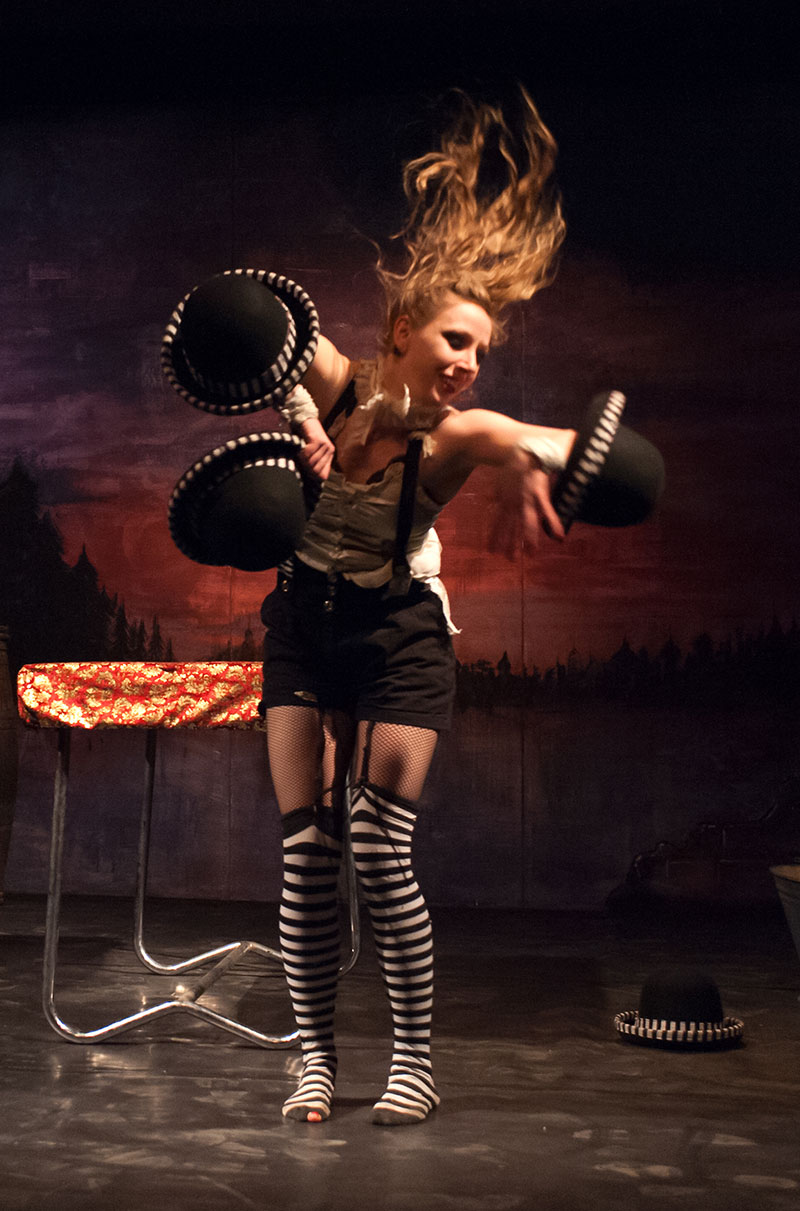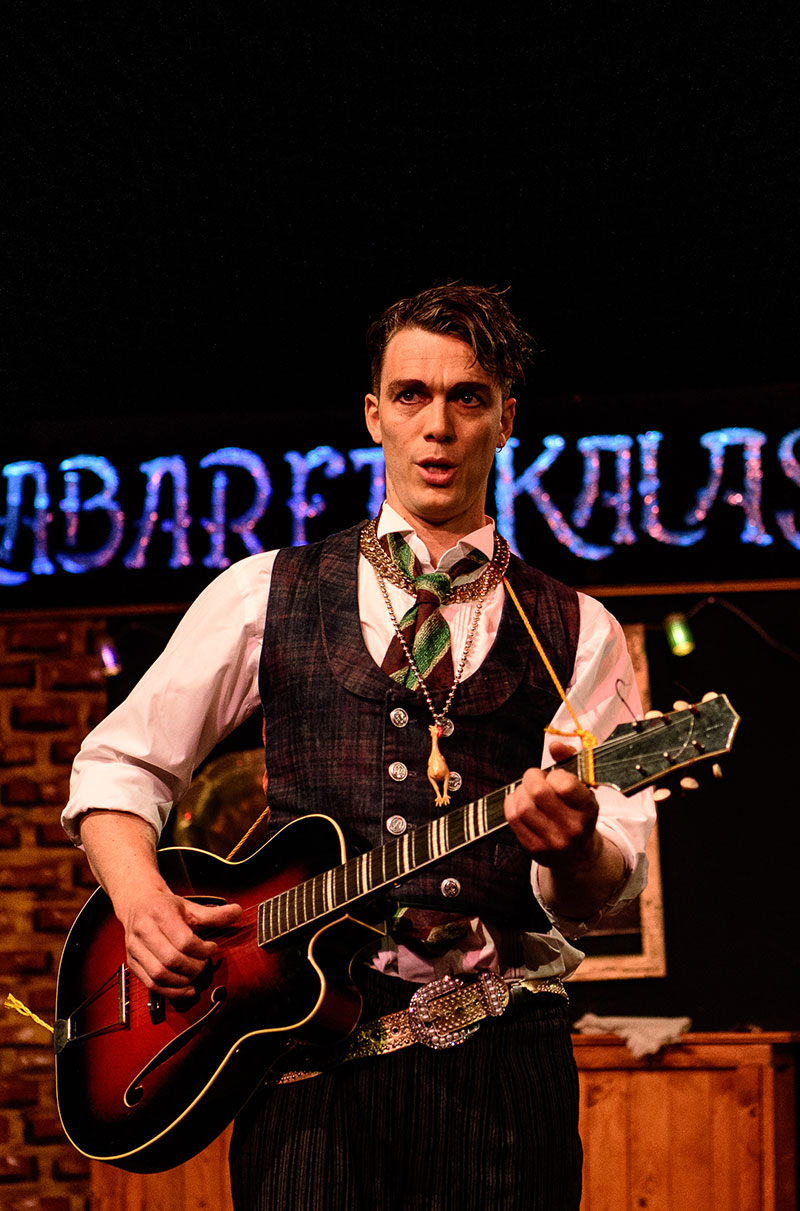 Kabaret Kalashnikov was founded in 2010 and has developed nine shows so far. The first shows made initially just for fun, were only performed on one weekend in Berlin, but since those days the story, dramaturgy and acting have become more and more refined. The idea and concept of each individual show are developed by the ensemble and are now brought to stage maturity with professional direction.
Recent shows premiered in Berlin go on tour. One of the highlights in 2019 was a guest performance at the 16th ''Black and White Theatre Festival'' in Imatra, Finland, another was the big New Year's Eve event 2019/20 at the Kleist Forum in Frankfurt/Oder with a concert from the band afterwards, and a Balkan set from our DJ.
Kabaret Kalashnikov received two NEUSTART KULTUR grants (residency funding from the Fonds Darstellende Künste and Live Kultur from the DTHG), and was in the 2022 summer programme funding from the Kultursekretariat NRW. In January 2023, ''Taverna Stories'' are invited as a Special Performance to the International Kulturbörse Freiburg - trade fair for stage productions, music and events.

Poster Artwork by Ernesto Lucas
Our Name
"Kabaret Kalashnikov"
Over ten years ago we had the idea of doing a wild vodka variety show and called it ''Kabaret Kalashnikov''. A catchy title that conveyed everything we envisioned: an energetic show set somewhere far, far east. A format where crazy characters collide with each other and the action moves forward blow by blow without giving the audience time to breath.
We are and always have been an international company with a wide range of people from East and West, near and far. We are united by the desire to put on a great show and our passion for variety.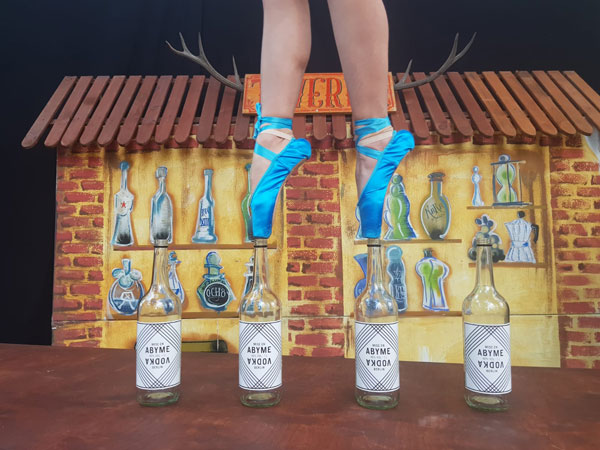 Kabaret Kalashnikov
Andrew Parkin, Merlin Pohse, Jan Manske GbR
Dieffenbachstrasse 39
10967 Berlin
VAT ID No. DE323080295
Kabaret Kalashnikov
All rights reserved
Despite careful control of the contents, we do not assume any liability for the contents of external links. The operators of linked sites are solely responsible for their content.